Hello Fields Farm friends and Family! Farm worker Jeremy here. With all this warm weather I've been thinking about the upcoming growing season. Can you believe this will be Jim and Debbie's 33rd year of organic farming in Central Oregon?!? To celebrate this anniversary I am organizing a gift for these two wonderful folks—a new refrigerator for the sales shed!
Please consider contributing to the anniversary gift here:
Here's Debbie and the existing fridge…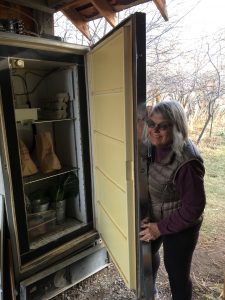 Check out the fundraising site https://gofund.me/cfb2d329 to see pictures of what could be there instead!
This is not a secret from them, so feel free to ask questions!
Looking forward to another great growing season. See you at the farm!
Jeremy